Eine Radiosendung in BBC und ein Stolperstein in der Moabiter Thomasiusstraße haben in Judiths Leben entscheidende Weichen gestellt, sie zur "Rückkehr" nach Deutschland bewegt und sie sogar dazu veranlaßt, zusätzlich die deutsche Staatsbürgerschaft zu beantragen.
Sie schildert es am besten mit ihren eigenen Worten.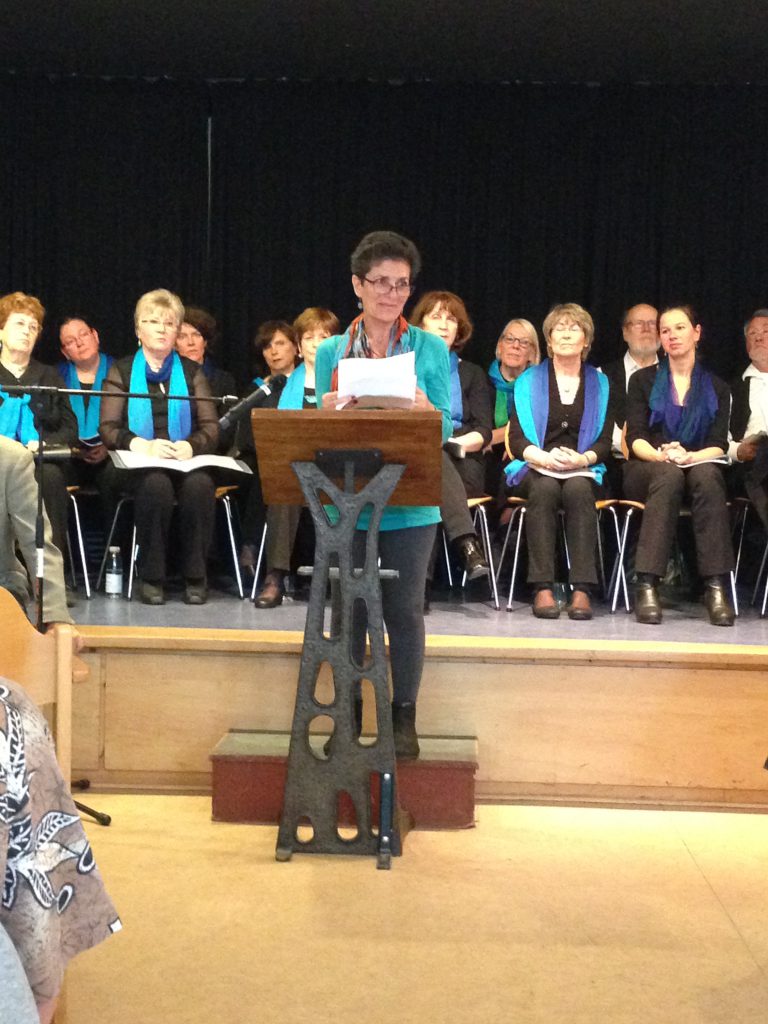 Anläßlich einer Stolpersteinverlegung in der Thomasiusstraße / Berlin-Tiergarten hielt Judith Elam die unten wiedergebene Rede in St. Ansgar am 24. Juni 2015.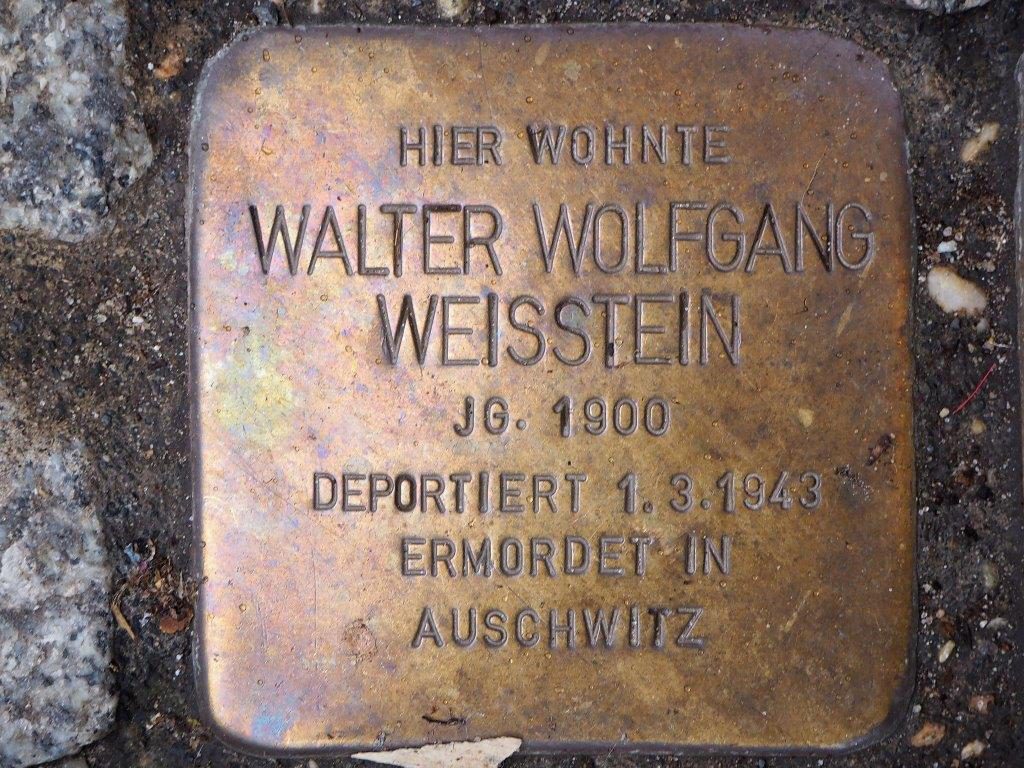 Hello Everybody!
I am so very happy to be here today, back in Berlin and reunited with my Berlin friends! It is truly an honor for me to speak to you on the occasion of this 3rd Stolperstein ceremony.
For those of you who don't know who I am, my name is Judith Elam. I was born in London, the daughter of two Holocaust survivors. My mother, who is still alive, was born in Leipzig, and my father was born here in Charlottenburg. My grandparents and 3 great-grandparents were also born in Berlin. In fact I have more than 100 ancestors and relatives buried at the Jewish cemeteries at Weissensee , Schoenhauser Allee and Grosse Hamburgerstrasse. My family history in Berlin goes back 6 generations. It begins in 1671, when 50 Jewish families were allowed to settle in Berlin – they were called Schutzjuden. They had paid for a residence permit allowing them to engage in certain businesses and professions, and for the right to practice Judaism in their homes. Amongst these 50 families were my 7th great-grandparents. In 1812 Jews were finally allowed to become Prussian citizens, with virtually the same rights as their non-Jewish neighbors. And they were also required to adopt surnames. So my ggg-grandmother, Taeubchen, who was one of just 20 Jews living in Spandau, became known as Taeubchen NATHAN. Since then, the surname Nathan has been carried down 5 more generations in my family! NATHAN is my maiden name!
My family prospered in Berlin, like so many Jewish families. And like most German Jews, they were very patriotic, and considered themselves German first, and Jewish second. My grandfather had lost a lung fighting for the Kaiser in WWI. Ironically, it was this patriotism to Germany that was to save my grandparents' life. In 1942 they were deported to Theresienstadt, but a Nazi guard gave them a slice of bread to eat every day, out of respect for my grandfather's patriotism – and this slice of bread is what saved them, what kept them alive, while my great-grandmother, who was with them, was being starved to death.
My father, Max Heinz Nathan, attended the Jewish ORT school here on Siemenstrasse in Charlottenburg, and at this school he learned plumbing, engineering and welding – skills which would save HIS life. It was the only Jewish school the Nazis allowed to function for a while, because the boys were acquiring skills that could be of use to them. My father was too old for the Kindertransport, since he was already 18. But he was lucky. He was one of 100 Jewish men selected to go to England in March 1939, to refurbish the abandoned camp that was soon to become the home of more than 4,000 Jewish men who would follow within a few weeks – leaving behind loved ones who were still trapped in Nazi Germany.
November 9th, 1938. We all know that date. Kristallnacht. In Leipzig my grandfather, Peisech Mendzigursky, was hiding in the attic in the family apartment. My terrified mother would bring him up food, stay with him a while, then come back down and take away the ladder. After 4 days my grandparents thought the danger had passed, and Peisech came down from the attic. But the SS came back again and got him, and deported him to Buchenwald. He was forced to chop wood for 6 weeks, and then released. When he arrived back in Leipzig, he was so thin and covered in bruises. The Nazis had beaten him up – or as they put it, "given him something to remember them by". They ordered him to leave Germany as soon as possible, or next time they would beat him to death. By then it was a race against time for the Jews, and like all parents, my grandparents'priority was the safety of their children and to get them out of Germany. The departure date arrived for the LAST Kindertransport out of Leipzig. August 8th 1939. It was too dangerous for my grandfather Peisech to leave the apartment. As the train slowly pulled out of Leipzig train station, my grandmother waved goodbye to her two beloved daughters, and she told them – "learn, learn, learn, they can take everything from you except what's in your brain". My mother always repeated these words to my sister and myself, and they have always been my mantra in my own life. And so my mother and her sister got out on the Kindertransport to England, and were taken in by cousins. My grandfather soon followed, arriving in England on August 31st – just one day before Germany invaded Poland. His life was saved by one day! But tragically, my grandmother Frieda was eventually deported with her youngest daughter, Etti Lea, to Riga, in January 1942, although they never arrived there. My mother tried her whole life to find out what happened to them, but all we know is they died en route in that cattle truck.
Both my parents suffered terribly in England, not knowing what was happening to their parents and families left behind in Nazi Germany, and coping with a new life and a new language in a new country now at war. My mother and aunty only ever received 3 short letters from my grandmother Frieda – and then no more. Frieda never talked about herself, she just was worried how her Geliebte Suessen Kinderchen were doing. "Seid Ihr sonnst brav, ist man mit Euch zufrieden." My mother Feige was not able to continue her education, and had to work in a factory in England, making gas masks. Nobody had ever taught her how to sew, but somehow she just knew how to do it. She was just 15 and all alone. Her father was interned twice, and her sister Margo had caught tuberculosis, and had been sent to a sanitorium in the countryside to recover. There was no communication between anybody.
My childhood was very difficult. My father died suddenly, when I was only 11, and we were quite poor. I remember my mother would fall asleep over the sewing machine, as she made and repaired our clothes. She had been raised Orthodox but had stopped practicing her Judaism soon after the war was over. She said "no God could allow such a thing like the Holocaust to happen". And so we never went to synagogue, or really celebrated anything Jewish. I never learned Hebrew. Sometimes I wondered if we were really Jewish at all and why we never went to synagogue. It was very confusing. But one memory stands out above all others – my mother would tell my sister and myself never to talk about anything Jewish out in public. If she heard anyone speaking German she would freeze in a panic. The fear and the paranoia of all things German have never left her.
It is hard to be raised this way, to hear and feel your mother's pain for all she suffered, and not to be able to make the pain go away. To feel her guilt at surviving, when her grandparents, her mother and her little sister did not, and were brutally murdered. She had named me Judith Ellen – Ellen after her little 7 year old sister, Etti Lea. I couldn't understand why she would name me Ellen, after someone who was murdered. After all, this was a name I would have for the rest of my life. But now I understand it was the only way my mother could preserve her little sister's memory. All she has of Etti Lea is one tiny faded photo –which to this day is on the wall opposite her bed. Like most survivors, my mother talked very little about the past, it was too painful. But one thing she was very vocal about when the subject came up – she hated Germany, she hated Germans and she would never ever set foot in Germany again.
And so you understand it was impossible for me not to feel the same way as my mother did, about Germany and Germans, even though in my heart I knew most Germans today weren't even alive at that horrible time, and were not to blame.
But then in August 2008 something happened which changed the rest of my life. I listened to my childhood friend Annie being interviewed on BBC radio, and talking about what happened to her mother and her mother's family, who were Viennese Jews. It was extremely emotional and painful to listen to. And then, all of a sudden, I heard a female voice inside of me say, very clearly "Judy, you need to find out the truth about your own family". The very next day I got on the computer, and I have not got off it since. I have found out so much about my family history and the incredible ancestors I have. It was extremely painful to learn about the Holocaust era and my hundreds of murdered relatives. For months I had nightmares dreaming the Nazis were chasing me. I thought, "I can't do this anymore, I will go crazy", but my ancestors just kept pushing me forward all the time. And then I found out I was directly descended from one of the most famous Jews of all, King David, and it had a huge impact on me. He is my 100th great-grandfather! I am also descended from his son – the famous King Solomon. I felt this blood was running through my veins for a reason – which I still had to find. I started to go the synagogue on Maui and to become actively involved with the Jewish community. I started to celebrate the Jewish festivals – and I loved it! I started to speak the Yiddish words and expressions my mother used to say. I started to feel REALLY JEWISH for the first time in my life – and I loved it. For the first time in my life I was finding a Jewish identity with the PRESENT – and not with my family's tragic past.
I then decided to request 7 Stolpersteine to be laid for some of my murdered relatives. The last stone to be laid was for Walter Weisstein – in July 2012. Walter was a 2nd cousin of my father's. I didn't know that Walter's stone was the only one on Thomasiusstrasse at that time. I had wanted to lay one for his wife Lotte too, but this was not possible. I didn't know that Oliver Geiger had stopped to read Walter's inscription, and had been so moved by the stone. I didn't know about the spark that had ignited this tremendous "fire" on Thomassiustrasse, uniting you the residents, in your determination to memorialize the street's former Jewish nachbaren. When I received Oliver's first e-mail in November 2013, I was speechless. I didn't know how to react. Here was a German man who was reaching out to me on behalf of several people on Thomasiusstrasse. Kind, caring people, who wanted to right a wrong – that touched me so deeply. It was all overwhelming and it brought me to tears.
Over the next few months, I started to get to know Oliver by e-mail. I always looked forward to his beautiful e-mails, which were filled with such sensitivity and emotion. I also started to correspond with other residents involved in the project, trying to help you all find living relatives of the victims. I was overjoyed when we were successful. I am proud to know I have been able to contribute to this amazing project, to have helped both the residents and the living relatives to unite in such an emotional and meaningful way – to extend bonds of friendship that will hopefully last for life now. This project has changed so many people's lives – forever. We all have shared memories which we will never forget.
But then there came the moment when Oliver asked me "why don't you come to Germany, to Berlin?" He told me "You are German, don't ever forget that. Your family has been here in Berlin for hundreds of years. You just happen to be Jewish as well". These words had a huge impact on me. You see I had only ever thought of myself as Jewish, never German Jewish (from my father's side) or Polish Jewish (from my mother's side). Now Oliver had given me a new identity, and it felt strange – but good! And for the first time in my life I could think about a possible trip to Germany not with hatred and fear, but with love and friendship. So I knew what I had to do. I responded, "Yes, I will come. I want to see where and how my family lived before the Holocaust. I want to feel my roots. And I want to meet you and the Nachbarn of Thomasiusstrasse".
And so on September 11th last year, I set off for Germany from Maui, Hawaii, where I live. To tell you the truth, I was still very nervous when I left, and I wasn't sure I was making the right decision – even when I was on board the plane ready to take off! I was determined to wear my Star of David around my neck, to prove to myself, my family and my Jewish friends, that this was a new and safe Germany now, and the Star was no longer yellow with the word "Jude" on it. That I could walk the streets without fear as a proud Jew – but could I really? The war in Israel and Gaza of last summer, and all the horrible and disgusting, violent attacks on Jews in Europe at that time, all the terrible anti-Israel demonstrations, including here in Berlin, made me feel very, very nervous. But one thought kept me going – "my family had to overcome their fear – they had no choice – and so must I". If they could do it, so can I." And I didn't want to disappoint all the people who were expecting me here in Germany, and those friends and family who had given me so much support back home and around the world. One close friend told me "you are making this trip for all of us".
I have to say it was the right decision! I have never been on a trip like this before. As soon as I saw Peter Sauer's smiling face at Frankfurt airport, I knew everything was going to be OK. As soon as I saw Rita and Heinz' smiling faces at the Berlin train station, I knew I had found wonderful friends here. Rita and Heinz were the best hosts I could ever have hoped for, and I am very grateful to them for making me feel so welcome in their beautiful home. Rita went with me almost everywhere, experiencing all the mixed emotions with me. Every day of my trip last year was a roller coaster ride of tears, joy and laughter – from the anguish of the Holocaust memorials, from the sadness of the Stolpersteine, from the pain of seeing the buildings where my family lived and were deported from – to the joy of spending Rosh Hashanah – the Jewish New Year – in the exquisite Rykestrasse synagogue with my new German family – Ollie, Rita Palla, Rita Buenemann, and my dear friend Ines. To the joy of meeting my "new" 2nd cousin, Gil Schwarz and his wife Hana, who had come all the way from Israel just to meet me. To the pain and happiness of visiting beautiful Leipzig, my mother's birthplace. Thank you Ineslein for taking me there. To the pride of unveiling a plaque (tafel) in honor of my great-great grandfather Dr. Bernhard Weiss, the former community doctor of Oranienburg, and feeling like a film star with the mayor, a reporter and lots of people listening to my sehr schlecht Deutsch! And to the laughter, as Ollie showed me the spot where Hitler's bunker once stood – where now all that remains is just bits of rubble – mixed with lots of dog poop – Hitler's final legacy! I still remember every moment of last year's trip like it happened yesterday. I felt in a way I had returned "home". You see, even though I was born in England, I have no history there. I am not English; I am German and I am Polish – but most of all I am, and will always be, Jewish. And YOU all have helped me to feel both German AND Jewish, not with fear, but with pride and love.
Today I cannot imagine, nor would I ever want to be, anything else but Jewish. Jews have contributed so much to humanity with their philanthropy, their intelligence and their inventions. And they continue to do so all the time. But by the end of 1945, 2/3 of the entire Jewish population in Europe had been murdered. What would Europe be like today without Jews? What would the world be like today without Jews? It would be completely empty and lifeless, like the heart had been ripped out. But what is life really LIKE for today's Jews in Europe? The attacks are more violent and numerous than ever on Jews, on synagogues, on Jewish cemeteries and even a kosher market in Paris. But what about Berlin? Even Chief Rabbi Shaul Nekrich told me last year he cannot walk the streets of Berlin wearing his kippah. It is too dangerous. This is unacceptable, and it makes me very sad. It reminds us all of Nazi times again. It reminds me of my mother's paranoia. Many Jews today feel Hitler's goal of a Judenfrei Europe may actually be happening – 75 years later, as terrified Jews flee to Israel.
Germany, and the people of Thomasiusstrasse, have done an incredible job of making sure the Holocaust victims are never forgotten. "Never again", we all say. But what can we do to ensure this "never again" will really be NEVER AGAIN? Most of the Ashkenazi Jews who live in Israel today are descended from Holocaust victims and survivors. So as we honor and remember the Thomasiusstrasse victims today, I feel we should also honor and support their descendants – WHEREVER they live today, including the Jewish Homeland – Israel. Israel IS, and always will be, the HEARTBEAT of the Jewish people. Or as cousin Gil told me, "Israel is the fruit that grew out of the ashes of Auschwitz, and you cannot separate the two, no matter how hard you may try". Israel is the place where Jews are fleeing to, when, once again, they no longer feel safe or welcome in their homelands. Israel is where Rabbi Nekrich can finally put away his baseball cap in the closet, and wear his kippah.
There is one final thing I would like to say. I have often wondered – if the victims of Thomassiusstrasse could speak today at this ceremony, what would they say? Well, I believe they would say "Thank you kind people for honoring us, for making sure we are never forgotten. You have done a wonderful thing, and you should be so proud, because we are proud of you. And as we continue along our path of friendship together, we look forward to the day when Jews in Germany are 100% safe, when there is NO LONGER the need to post a security guard at every Jewish building. We hope our children and grandchildren will be able to say "Germany is where the Holocaust started, but Germany is also where "Never Again REALLY is NEVER AGAIN".
I thank you with my German Jewish heart and soul for all you have done, and for having me here today!
Kinderausweis von Feige Mendzigursky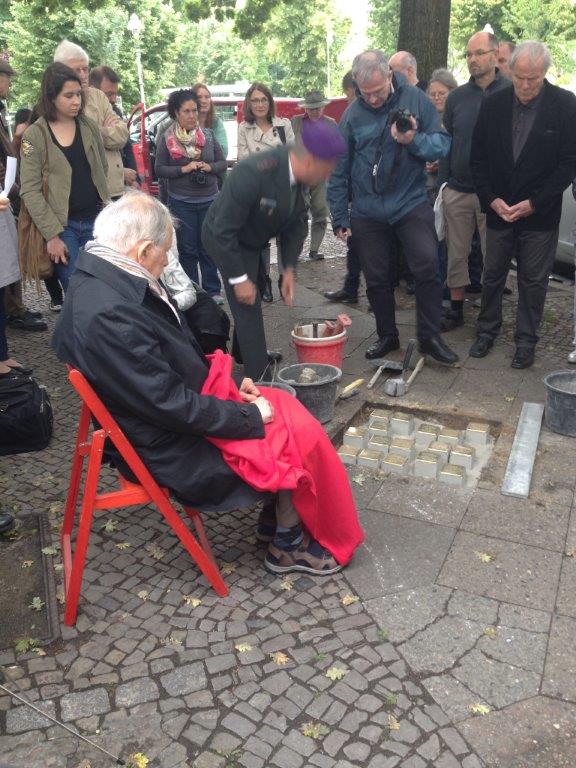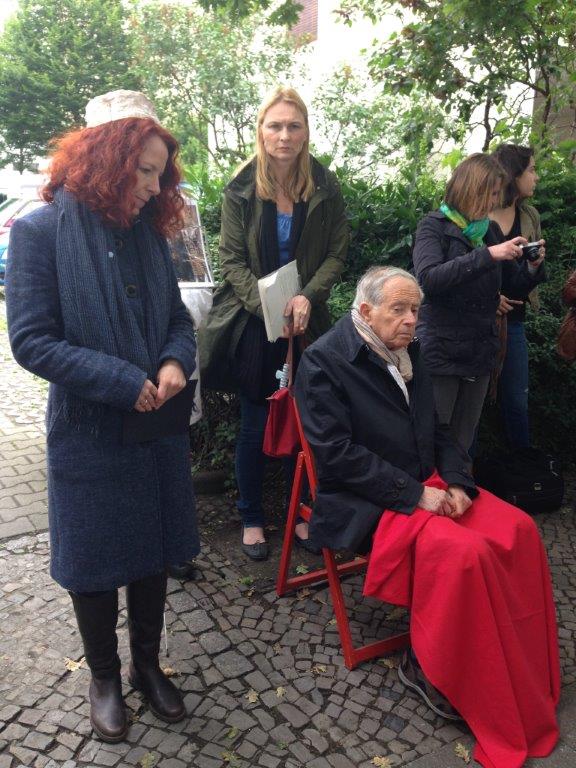 Anläßlich einer Stolpersteinverlegung in der Thomasiusstraße / Berlin-Tiergarten hielt Judith Elam die unten wiedergebene Rede in St. Ansgar am 24. Juni 2015. Mit ihrem Einverständnis übersetzten wir die oben stehende Rede ins Deutsche.
Hallo an alle, die Ihr hier versammelt seid,
Ich bin richtig glücklich, wieder hier zu sein, zurück in Berlin und wieder vereint mit meinen Berliner Freunden.
Es ist wirklich eine Ehre für mich, aus Anlaß der dritten Stolpersteinverlegung hier zu Euch zu sprechen. Für die von Euch,die mich noch nicht kennen, ich bin Judith Elam. Ich bin in London als Tochter zweier Holocaust-Überlebender geboren. Meine Mutter lebt noch, sie ist in Leipzig geboren und mein Vater hier in Charlottenburg. Meine Großeltern und drei meiner Urgroßeltern wurden ebenfalls in Berlin geboren. Ich habe tatsächlich mehr als hundert Vorfahren und Verwandte, die hier auf jüdischen Friedhöfenin Weißensee, Schönhauser Allee und in der Großen Hamburger Straße begraben worden sind. Meine Familiengeschichte in Berlin reicht sechs Generationen zurück. Sie beginnt im Jahr 1671, als es 50 jüdischen Familien erlaubt wurde, sich in Berlin anzusiedeln – als sogenannte Schutzjuden. Sie hatten eine besondere Abgabe dafür zu entrichten, daß sie bestimmte Geschäfte betreiben und Berufe ausüben durften, und für das Recht, zu Hause ihre Religion auszuüben. Unter diesen 50 Familien waren meine Großeltern in der siebenten Generation – rückwärts gezählt. Ab 1812 durften Juden in Preußen Bürgerrechte erwerben und erhielten damit dem Buchstaben nach dieselben Rechte wie ihre nichtjüdischen Nachbarn. Und sie wurden aufgefordert, ebenso Familiennamen anzunehmen. So war meine Ur-Ur-Ur-Großmutter, die damals als eine von zwanzig Juden in Spandau lebte, unter dem Namen Täubchen NATHAN bekannt. Seitdem ist der Familienname NATHAN über die nächsten fünf Generationen weitervererbt worden. NATHAN ist so auch mein Mädchenname.
Meine Familie machte ihr Glück in Berlin wie so viele jüdische Familien. Und wie die meisten deutschen Juden waren sie gute Patrioten und fühlten sich in erster Linie als Deutsche und erst in zweiter Linieals Juden. Mein Großvater hatte im Ersten Weltkrieg für den Kaiser eine halbe Lunge geopfert. Ironischerweise war es dieser deutsche Patriotismus, der meinen Großeltern das Leben rettete. 1942 wurden sie nach Theresienstadt deportiert, aber ein Nazi-Wachsoldat gab ihnen jeden Tag eine Scheibe Brot aus Respekt vor dem Patriotismus meines Großvaters – und diese Scheibe Brot war es, die sie rettete und am Leben hielt. Meine Urgroßmutter, die mit ihnen deportiert worden war, verhungerte dagegen.
Mein Vater, Max Heinz NATHAN, besuchte die jüdische ORT-Schule in der Siemensstraße in Charlottenburg und erwarb an dieser Schule Kenntnisse im Klempnerhandwerk, in anderen Techniken und im Schweißen. Diese Fähigkeiten sollten ihm das Leben retten. Das war die einzige Schule, die für eine Weile mit Erlaubnis der Nazisbetrieben werden durfte, da sie sich einen Vorteil von den Fähigkeiten der Schüler versprachen. Mein Vater war mit achzehnJahren schon zu alt für den Kindertransport. Aber er hatte großes Glück. Er war einer von hundert jüdischen Männern, die im März1939 dazu bestimmt wurden, nach England zu gehen, damit das übervolle Lager entlastet und ausgebaut werden konnte. Dieses Lager war bald darauf mit über 4000 jüdischen Männern belegt, die ihnen nach England folgen sollten, während ihre Angehörigen in Nazi-Deutschland weiter gefangen blieben.
Wir alle kennen das Datum 9.November 1938. Kristallnacht. In Leipzig versteckte sich mein Großvater Peisech Mendzigursky auf dem Dachboden der Familienwohnung. Meine Mutter tief erschrocken brachte ihm Essen hinauf, blieb eine Weile bei ihm, kam wieder hinunter und stellte die Leiter weg. Nach vier Tagen glaubten meine Großeltern, daß die Gefahr vorbei sei, und Peisech kletterte vom Dachboden wieder hinunter. Aber die SS kam zurück und deportierte ihn nach Buchenwald. Dort wurde er sechs Wochen lang zum Holzfällen gezwungen, kehrte dann aber wieder zurück. Als er wieder in Leipzig ankam, war er so abgemagert und sein ganzer Körper war mit Wunden bedeckt. Die Nazis hatten ihn mißhandelt – oder . . . hatten ihm etwas zur Erinnerung an das Lager mitgegeben – wie sie es nannten. Er hatte den Befehl, Deutschland so schnell wie möglich zuverlassen, sonst würden sie ihn beim nächsten Mal totschlagen. Damit begann für Juden ein Wettlauf gegen die Zeit. So wie alle Eltern war es das Wichtigste für die Großeltern, die Kinder in Sicherheit und damit aus Deutschland herauszubringen. Der Abreisetag für den letzten Kindertransport aus Leipzig fiel auf den 8. August 1939. Für meinen Großvater Peisech war es zu gefährlich, dieWohnung zu verlassen. Als der Zug langsam den Bahnhof Leipzig verließ, winkte meine Großmutter allein ihren geliebten Töchtern zum Lebewohl hinterher. Sie hatte ihnen eingeschärft : Lernt, lernt, lernt, sie können euch alles wegnehmen, nicht aber das, was in euren Köpfen ist. Meine Mutter erinnerte mich und meine Schwester immer wieder an diese Worte, und sie haben als ein Mantra mein Leben weiterbestimmt. So verließen meine Mutter und ihre Schwester Deutschland mit dem Kindertransport in Richtung England, dort wurden sie von ihren Kusinen aufgenommen. Mein Großvater konnte bald nachkommen, er erreichte England am 31. August – genau einen Tag bevor Deutschland in Polen einmarschierte. Dieser eine Tag rettete sein Leben. Ein tragisches Schicksal dagegen ließ wahrscheinlich meine Großmutter zusammen mit ihrer jüngsten Tochter Etti Lea nach Riga deportieren, im Januar 1942. Es gibt aber keine Hinweise auf die Ankunft des Transportes dort. Meine Mutter versuchte ihr ganzes Leben hindurch, genaueres über ihr Schicksal in Erfahrung zu bringen. Aber alles, was wir wissen, ist, daß sie unterwegs in dem Viehwaggon gestorben sind.
Meine beiden Eltern litten in England furchtbar darunter, daß sie nicht wußten, wie es ihren Eltern und Familien in Nazi-Deutschland weiterhin erging. Gleichzeitig mußten sie sich in ihrem neuen Leben behaupten und eine neue Sprache lernen, und das in einem fremden Land, das sich jetzt im Krieg befand. Meine Mutter und meine Tante erhielten nur drei kurze Briefe von meiner Großmutter Frieda – und dann kein Lebenszeichen mehr. Frieda berichtete nie etwas über sich selbst, sie war nur besorgt darüber, wie es ihren Geliebten Süßen Kindchen ging. " Seid Ihr sonst brav, ist man mit Euch zufrieden?" Meine Mutter Feige konnte ihre Ausbildung nicht fortsetzen und mußte in einer Fabrik arbeiten, Gasmasken herstellen. Niemand hatte ihr je das Nähen beigebracht, aber irgendwie wußte sie, wie es ging. Sie war gerade fünfzehn Jahre alt und völlig auf sich gestellt. Ihr Vater war zweimal interniert, und ihre Schwester war an Tuberkulose erkrankt und wurde zur Behandlung in ein Sanatorium auf dem Land geschickt. So war keine Kommunikation zwischen ihnen möglich.
Ich hatte eine schwierige Kindheit. Mein Vater starb plötzlich, als ich elf Jahre alt war. Und wir waren furchtbar arm. Ich entsinne mich daran, wie meine Mutter über ihrer Nähmaschine einschlief, als sie Kleider für uns nähte und reparierte. Sie war im orthodoxen Judentum aufgewachsen, hatte aber bald nach dem Krieg aufgehört, ihren Glauben zu praktizieren. Sie sagte, " kein Gott kann so etwas wie den Holocaust zulassen". Und so gingen wir nie in die Synagoge oder erlebten jüdische Gebräuche. Und ich lernte nie hebräisch.Manchmal fragte ich mich, ob wir wirklich Juden seien, weil wir nie in die Synagoge gingen. Ich war sehr verunsichert. Aber ein Erlebnis bestimmte meine Erinnerung : meine Mutter prägte mir und meiner Schwester fest ein, niemals in der Öffentlichkeit über unser Judentum zu sprechen. Wenn sie jemand Deutsch sprechen hörte, ließ sie die Angst wie gefrieren. Diese Angst und die Paranoia vor allem Deutschen hat sie ihr ganzes Leben nicht verlassen.
Es ist sehr belastend, unter solchen Bedingungen aufzuwachsen, mitzuerleben, wie die eigene Mutter von ihrer Erinnerung gequält wird, und sie von dieser Qual nicht befreien können. Zu fühlen, wie sie sich als Überlebende dafür schuldig fühlt, daß ihre Großeltern, ihre Mutter und ihre kleine Schwester nicht überleben durften und stattdessen grausam ermordet wurden.
Sie hat mich Judith Ellen genannt – Ellen nach ihrer kleinen sieben Jahre alten Schwester, Etti Lea. Ich konnte es früher nie verstehen, weshalb sie mich Ellen genannt hatte, nach einem Menschen, der ermordet worden ist. Nach allem würde mich dieser Name mein Leben lang begleiten. Aber mittlerweile verstehe ich es, es war der einzige Weg, auf dem meine Mutter die Erinnerung an ihre kleine Schwester bewahren konnte. Alles, was sie noch von Etti Lea besaß, war ein kleines vergilbtes Photo, das bis heute an der Wand gegenüber ihrem Bett hängt. Wie die meisten Überlebenden erzählt meine Mutter nur wenig von der Vergangenheit, sie ist zu schmerzlich. Aber bei einemThema wird sie richtig laut, wenn das Gespräch darauf kommt – sie haßt Deutschland, sie haßt die Deutschen und sie würde nie mehr einen Fuß auf deutschen Boden setzen.
Sie werden verstehen, daß es unmöglich für mich war, andere Gefühle gegenüber Deutschland und den Deutschen zu haben als meine Mutter. Dabei wußte ich tief in meinem Herzen, daß die meisten Deutschen heute noch gar nicht in dieser fürchterlichen Zeit geboren waren und deshalb auch keine Schuld an den Verbrechen trugen.
Aber im August 2008 passierte etwas, das meinen Lebensweg änderte. Ich hörte in der BBC, wie Annie, meine Freundin aus Kinderzeiten, interviewt wurde und erzählte, was sie und ihre Mutter und die Familie mütterlicherseits als Wiener Juden erlebt hatten. Ich war zutiefst aufgewühlt, das Zuhören schmerzte mich sehr. Und dann plötzlich hörte ich eine weibliche Stimme in mir sagen, sehr klar "Judy, Du mußt die Wahrheit über Deine eigene Familie herausfinden". Am nächsten Tag setzte ich mich an meinen Computer– und ich habe seitdem mit dieser Arbeit nicht mehr aufgehört. Ich habe soviel über meine Familiengeschichte herausgefunden und über meine unglaublichen Vorfahren. Es war extrem schmerzhaft, dieEinzelheiten des Holocaust zu erfahren und von den Hunderten meiner ermordeten Verwandten. Über Monate hatte ich Alpträume von Nazis, die mich verfolgten. Ich dachte, " Ich kann das nicht weitermachen. Ich werde noch verrückt", aber meine Vorfahren schoben mich die ganze Zeit immer weiter. Und dann fand ich heraus, daß ich in direkter Linie von einem der berühmtesten Juden, König David, abstammte, und das machte einen gewaltigen Eindruck auf mich. Er ist also mein Großvater – hundert Generationen zurück. Auch von seinem Sohn, dem berühmten König Salomon stamme ich ab. Ich fühlte,daß das Blut aus einem bestimmten Grund durch meine Adern floß – diesen Grund galt es herauszufinden. Ich fing an, die Synagoge in Maui zu besuchen und engagierte mich in der Jüdischen Gemeinde. Ich begann, die Jüdischen Feiertage zu feiern – und ich fand Gefallen daran. Ich sprach erste jiddische Worte aus und Redensarten meiner Mutter. Ich begann mich zum ersten Mal in meinem Leben wirklich als Jüdin zu fühlen – unabhängig von der tragischen Vergangenheit meiner Familie. Dann beschloß ich, sieben Stolpersteine für meine ermordeten Verwandten legen zu lassen. Der letzte Stein war für Walter Weisstein im Juli 2012. Walter war der Kusin 2. Grades meines Vaters. Dabei wußte ich nicht, daß Walters Stein zu dieser Zeit der einzige Stolperstein in der Thomasiusstraße war. Ich hatte mir gewünscht, auch einen für seine Frau Lotte legen zu lassen, aber das war nicht möglich. Ich konnte nicht wissen, daß Oliver Geiger auf der Straße stehen geblieben war, um die Inschrift auf Walters Stein zu lesen, und daß er davon tief bewegt wurde. Genauso wenig wußte ich von dem Funken, der einen "Flächenbrand" in der Thomasiusstraße auslöste und damit ihre Bewohner den Beschluß fassen ließ ,gemeinsam ein Zeichen der Erinnerung an ihre früheren jüdischenNachbarn zu setzen. Als ich dann Olivers erste Email im November 2013 erhielt, war ich erst einmal sprachlos. Ich wußte nicht, wie ich reagieren sollte. Hier streckte mir ein Deutscher seine Hand entgegen – im Namen einer ganzen Gruppe von Menschen aus der Thomasiusstraße. Freundliche, sensible Menschen, die begangenes Unrecht wieder gutmachen wollten – das berührte mich zutiefst, daß ich überwältigt war und mir Tränen in den Augen standen.
Inden folgenden Monaten begann ich, Oliver durch Emails kennenzulernen.Ich wartete schon regelmäßig gespannt auf seine schönen Emails, die voller Sensibilität und positiver Gefühle waren. Gleichzeitig begann ich mit anderen Menschen, die an dem Projekt in der Thomasiusstraße beteiligt waren, zu korrespondieren und versuchte ihnen zu helfen, noch lebende Verwandte der ermordeten Juden zufinden. Ich war jedes Mal überglücklich, wenn wir dabei Erfolg hatten. Ich bin stolz darauf, daß wir einen Beitrag zu diesem bewundernswerten Projekt leisten und so die heutigen Verwandten der Opfer auf eine so bewegende und eindrucksvolle Weise zusammenbringen konnten. Da haben sich Freundschaften ergeben, die wahrscheinlichfür das künftige Leben halten werden. Dieses Projekt hat das Leben so vieler Menschen bleibend verändert. Wir alle teilen jetzt Erinnerungen, die wir nie vergessen werden.
Und dann kam der Moment, in dem Oliver mich fragte, warum kommst Du nicht nach Deutschland, nach Berlin? Er schrieb mir, " Du bist eineDeutsche, vergiß das nicht. Deine Familie hat viele hundert Jahre hier in Deutschland gelebt. Und gleichzeitig bist Du auch eine Jüdin." Diese Worte haben mich sehr beeindruckt. Wie Ihr seht, habe ich mich immer nur als Jüdin begriffen, nicht aber als deutsche Jüdin von der väterlichen oder als polnische Jüdin von der mütterlichen Seite her. Jetzt gab mir Oliver eine neue Identität, und sie fühlte sich ungewohnt an, aber gut. Und zum ersten Mal in meinem Leben konnte ich über die Möglichkeit einer Reise nach Deutschland ohne ein Gefühl des Hasses oder der Angst nachdenken, stattdessen mit einem Gefühl der Liebe und Freundschaft. Jetzt wußte ich, was ich zu tun hatte. Ich antwortete, ja, ich werde kommen. Ich wollte jetzt sehen, wo und wie meine Familie vor dem Holocaust gelebt hatte. Ich wollte meine Wurzeln spüren. Und ich wollte Euch und die Nachbarn aus der Thomasiusstraße kennenlernen.
Und so startete ich am 11.September letzten Jahres von Maui, Hawai, meiner jetzigen Heimat zu einer Reise nach Deutschland. Ich gebe es offen zu, ich war schon etwas unruhig, als ich von zu Hause abflog, und unsicher, ob ich die richtige Entscheidung getroffen hatte – besonders in dem Moment, als das Flugzeug zur Startbahn rollte! Aber ich war dazu bestimmt, meinen Davidstern um den Hals zu tragen und mir selbst, meiner Familie und meinen jüdischen Freunden zu beweisen, daß dieses Deutschland ein neues und für Juden sicheres Deutschland ist und daß der Davidstern nicht mehr gelb ist und das Wort "Jude" trägt. Und daß ich auf den Straßen dort ohne Angst als selbstbewußte Jüdin gehen konnte – aber war das wirklich so? Da war der Krieg in Israel und Gaza im letzten Sommer, und dann diese furchtbaren und abstoßenden, gewalttätigen Angriffe auf Juden in ganz Europa, diese schrecklichen anti-israelischen Demonstrationen, auch in Berlin. Sie machten mir Angst und beunruhigten mich. Aber ein Gedanke hielt mich aufrecht, "meine Familie hat ihre Angst besiegt,sie hatte keine andere Wahl, und ich muß es ebenso tun". "Wenn sie es schaffen konnten, dann ich auch". Und ich wollte all die vielen Menschen, die mich hier in Deutschland erwarteten, nicht enttäuschen. Ebenso nicht die Freunde und meine Familie, die mich zuHause und in der ganzen Welt so sehr unterstützt hatten. Eine enge Freundin gab mir damals mit auf den Weg, "Du machst diese Reise stellvertretend für uns alle". Und dieses Jahr machte Sie mir Mut, "diese Rede hältst Du für uns alle".
Und ich muß zugeben, es war die richtige Entscheidung. Ich habe nie zuvor solch eine Reise unternommen. Aber sobald ich Peter Sauers Lächeln auf dem Frankfurter Flughafen sah, war ich sicher, alles würde in Ordnung gehen. Und als ich Rita und Heinz lächelnd auf dem Berliner Hauptbahnhof sah, wußte ich sofort, daß ich hier wundervolle Freunde gefunden hatte. Sie waren die besten Gastgeber,die ich mir erhoffen konnte, und ich bin ihnen dankbar dafür, daß ich mich in ihrem schönen Heim so willkommen geheißen fühlen konnte. Rita begleitete mich fast überallhin und nahm Anteil an meinen oft widersprüchlichen Gefühlen. Jeder Tag meiner Reise im letzten Jahr war eine Berg und Tal Fahrt mit Tränen, Freude undLachen – angefangen von der Beklemmung am Holocaust Denkmal, der Trauer über den Stolpersteinen, der Betroffenheit vor den Wohnhäusern, in denen meine Familie gelebt hatten und aus denen heraus sie deportiert worden waren, bis zu der Freude, Rosh Hashanah, das jüdische Neujahrsfest, in der wunderbaren Synagoge in der Rykestraße miterleben zu können, zusammen mit meiner neuen Familie, Ollie, Rita Palla, Rita Buenemann und meiner lieben Freundin Ines. Dazu kam die Freude über ein Treffen mit meinem "neuen" Kusin 2.Grades und seiner Frau Hana, die extra die Reise von Israel unternommen hatten, um mich zu sehen. Und der Stolz, eine Ehrentafel für meinen Ururgroßvater Dr. Bernhard Weiß enthüllen zu dürfen, der früher als Stadtarzt in Oranienburg gearbeitet hatte. Dabei kam ich mir wie ein Filmstar vor, als sich der Bürgermeister, ein Reporter und eine große Zuhörerschar meine Worte in sehr schlechtem Deutsch anhörten. Und das Gelächter, als mir Ollie die Stelle zeigte, an der Hitlers Bunker einmal stand – heute aber Müll und Hundekot herumliegt, Hitlers letzte Hinterlassenschaft! Ich erinnere mich an jeden Augenblick meiner Reise im letzten Jahr als sei es gestern gewesen. Ich habe das Gefühl, als ob ich wieder nach Hause gekommen bin. Wie Ihr seht, bindet mich nichts an England, obwohl ich dort geboren bin. Ich bin keine Engländerin, ich bin Deutsche und ich bin Polin – aber vor allem werde ich immer Jüdin sein. Und Ihr alle habt mir dabei geholfen, mich als Deutsche und als Jüdin zufühlen, ohne das Gefühl der Angst, dafür mit den Gefühlen von Stolz und Liebe.
Heutekann ich mir nicht vorstellen, etwas anderes als Jüdin zu sein. Juden haben mit ihrer Philantropie, ihrer Intelligenz und ihrem Erfindungsreichtum soviel zu unserem menschenwürdigen Dasein beigetragen, und das durch alle Zeiten. Dennoch waren Ende 1945 zwei Drittel der europäischen Juden ausgelöscht, ermordet. Wie sähe dieWelt heute ohne die Juden aus? Sie wäre völlig leer und unwirtlich, als ob ihr das Herz aus der Brust herausgerissen sei. – Und wie sieht die Realität für Juden heute in Europa aus? Die Angriffe auf Juden werden immer gewalttätiger und zahlreicher, auch auf Synagogen und jüdische Friedhöfe, zuletzt auf einen koscheren Supermarkt in Paris. Und wie sieht es in Berlin aus? So hat mir im letzten Jahr der Gemeinde-Rabbiner Shaul Nekrich erzählt, daß er nicht mehr in Berlin mit der Kippa auf der Straße unterwegs sein kann. Es sei zu gefährlich. Das ist nicht akzeptabel und macht mich wirklich traurig. Es erinnert uns alle wieder an die Nazi-Zeiten. Und mich an die Verfolgungsängste meiner Mutter. Viele Juden haben das Gefühl, daß Hitler sein Ziel, Europa judenfrei zu machen, in absehbarer Zeit doch noch erreichen könnte – nur 75 Jahre später, weil die tief verunsicherte Juden schließlich nach Israel fliehen.
Deutschlandund die Menschen aus der Thomasiusstraße haben unglaubliches geschafft, indem sie das Andenken an die Holocaust-Opfer als unvergessen bewahrt haben. "Niemals wieder" sagen wir alle. Aber was können wir dafür tun, daß dieses "Niemals wieder" auch wirklich NIEMALS WIEDER geschieht? Die meisten der ashkenasischenJuden in Israel heute sind Nachfahren von Holocaust-Opfern oder Überlebenden. So wie wir die ermordeten Juden aus der Thomasiusstraße ehren und an sie erinnern, sollten nach meiner Überzeugung ihre Nachkommen geehrt und unterstützt werden, wo immer sie leben, einschließlich ihrer jüdischen Heimat Israel. Israel ist und wird es immer bleiben, das lebendige Herz des jüdischen Volkes. Oder wie mein Kusin feststellte, "Israel ist aus der Asche von Auschwitz geboren, beides kann man nicht voneinander trennen, keine Macht der Erde kann das". Israel ist der sichere Hafen, in den Juden fliehen, wenn sie sich wieder einmal an ihrem Wohnort nicht sicher oder willkommen fühlen. Israel ist der Ort, an dem Rabbi Nekrich seine Basecap endlich auf den Müll werfen und die Kippah tragen kann. Ich habe oft darüber nachgedacht, was die ermordeten Juden aus der Thomasiusstraße wohl sagen würden, wenn sie hier sprechen könnten. Ich glaube, sie würden sagen, herzlichen Dank, ihr lieben Menschen, für die Gewißheit, daß Ihr Euch auch in Zukunft in Ehren an uns erinnert. Ihr habt eine wunderbare Aufgabe übernommen, darauf könnt ihr stolz sein, so wie wir stolz auf euch sind. Wenn wir weiter auf diesem Weg der Freundschaft vorangehen, haben wir die Hoffnung, daß eines Tages Juden in Deutschland hundertprozentig sicher sind und wir keine Wachen mehr vor jedem jüdischen Gebäude brauchen. Wir hoffen, daß dann unsere Kinder und Enkel sagen werden, in Deutschland hat der Holokaust begonnen, aber Deutschland ist auch der Ort, wo das "Niemals wieder" Wirklichkeit geworden ist.
Ich danke Euch aus meinem Deutschen und Jüdischen Herzen heraus für alles, was Ihr getan habt und dafür, daß Ihr mich heute hierhergebracht habt.
.
.
Judith hat aber weiter in ihrer Familiengeschichte geforscht und im Mai 2017 weitere Stolpersteine in der Mommsenstr. 47 in Berlin-Chalottenburg für ihre Großeltern väterlicherseits Werner and Grete Nathan und ihre Urgroßmutter Julie verlegen lassen.

Hello Everyone!
First of all, Iwant to thank you all so much for coming here today to be with me and the Alexander family, as we remember and honor our relatives. I also want to give many thanks to Mayor Naumann, the Stolpersteincommittee, to Bernhard Galmor-Geier for conducting our ceremony, toAstrid for her wonderful violin playing, to Andre for the video, and to all the building residents for their generous participation andthe wonderful lunch! And finally, I want to thank Tobias Willemeit, without whom none of this would have been possible today. It was almost 3 years ago that Tobias and I first met and talked about my family, and how to honor them and the other victims. Today, Tobias, our dream has finally come true…..and I thank you so much for your commitment to making this dream a reality. We couldn't have done this without all your hard work.
Some of you have come from far away to be with us today, and I am really very, very touched. Even though I am not related to the Alexander family, I feel we are mishpocha – family – this building where our two families once lived with several other Jewish families, was their home, and they probably knew each other, smiled and greeted each other like neighbors do – till their lives were shattered forever by the Holocaust. 19 Jewish families, 28 people, lived in this building, and about half were murdered simply because they were Jews.
My grandparents,Werner and Grete Nathan, were born in Berlin. Werner was a Rechtsberater, a legal adviser. My family lived originally on Wilmersdorferstrasse for many years, but when Werner was no longer allowed to work because he was a Jew, the family had to leave Wilmersdorferstrasse, and moved here to Mommsenstrasse in 1933. As a Jewish child, my father, Max Nathan, could no longer attend public school, and so he went to a Jewish school here in Charlottenburg, where they trained Jewish boys in skills that might help them survive, such as plumbing, welding and engineering. This was the last school the Nazis closed down. My grandparents had to sell everything they had bit by bit, just to survive, but they were determined to protect my father. So in March 1939 my father was able to escape to England, and was immediately interned in a refugee camp. He was just 18 and was one of a group of 100 men who had construction skills and could refurbish this old refugee camp, which would soon house about 10,000 German Jewish refugees. My father dug trenches all day, and laid water and sewer pipes. Once the bombing started, these Jewishmen were finally allowed to form their own fighting unit in Britain, called the Pioneer Corps, and my father served for 4 years in this unit. All of this time, he had no idea what was happening to his parents and grandmother back in Germany.
My grandparents lived here at Mommsenstrasse for 9 years, until November 1942, when they were forced to move into a tiny Judenhaus, a "Jew house" on Sybelstrasse, together with my great-grandmother, Julie. Werner was working at the Jewish Community where he earned a few marks. It was while he was at work that Werner learned, two weeks later, that he, Grete and Julie were about to be deported to Theresienstadt concentration camp. He telephoned Grete and told her she needed to pack 3 small suitcases of clothes, and to hide his father's stampcollection in amongst the clothes, to be used for bribes, if needed. Of course they never saw their suitcases again once they were loaded into the cattle truck en route to Theresienstadt. Julie died of pneumonia and starvation 9 months later. She was 71. But Werner and Grete, somehow managed to survive – barely. The story goes that their Nazi guard gave them a slice of bread to eat every day, out of respect for Werner's service to the Kaiser during WWI, and the lung injury he had received.
6 years after he had left for England, my father Max found out his parents had survived Theresienstadt, and were now living at a displacement camp in Bavaria. He managed to enlist with the American forces in Bavaria in their intelligence division, so he could be near his parents, and help them try and get out of Germany. For two years they tried, but nobody would take them because of Werner's weak heart and lung condition. Eventually they were placed in a home for survivors in Wurzburg. It was here, despite their ill health and all they had suffered, they were able to have some measure of peace and quiet in their final years. They are buried in the Jewish cemetery in Wurzburg. I am happy that my parents took me to meet my grandparents before they passed away. I was just 2 years old.
My parents, Max and Fay, met at a restaurant for refugees in London, in 1948, and were married soon after. My mother was also a survivor – from Leipzig. She had escaped on the Kindertransport to England. When I was born 3 years later, my father was unemployed, England was still on rations, and we lived in just one tiny room. My father was very intelligent and learned things very quickly. He started to sell life insurance. Things got better and we moved out to the suburbs and into our own home. But tragically, six years later, my father died unexpectedly of a heart attack. He was just 42, I was just 11 and my sister 8. My father Max is buried at a Jewish cemetery in London, just a few rows away from Leo Baeck, the famous Berlin rabbi.
I know my grandparents wanted desperately to join my father in England after the war. I have always felt so sad that this never happened, afterall they had suffered. It seems so unfair that even in death they could not be together as a family, as they are not even buried in the same country. But now today, these Stolpersteine mark not only where they once lived as neighbors, but also their final resting place together – side by side. They are now reunited as a family once again, and are now neighbors of the Alexander family – once again. And next year more Jewish neighbors will join them, when additional stones are laid.
There is something else I have done for my family, which I hope makes them very proud. In October last year I became a German citizen. So today I am also very happy to bring back to my family – here – at their former home on Mommsenstrasse – a tiny, but important, part of what was taken away while they were living here – our German citizenship and our German history, which began here in Berlin in 1671. This passport is for my family. Now my family is no longer Staatenlos –Stateless – my family is once again German, and this passport will never ever again have a purple swastika on it, or the "J" for Jude.
Thank you all again from the bottom of my heart for being here today at this Stolperstein ceremony.
Wir bedanken uns bei Judith Elam ausdrücklich dafür, daß wir ihre Texte und Fotos hier veröffentlichen können.
TOL-